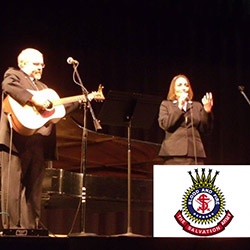 The Salvation Army of Marysville/Tulalip strongly believes in the philosophy of soup, soup and salvation; that is meeting the immediate basic needs of the individual before addressing the spiritual needs. We strive to bring people to salvation, to grow the saints and equip them for service.
We are a group of authentic Christians giving loving support to each other on our walk of faith where each person is at any particular time. We enjoy worship, fellowship, and serving together. Our programs include women's ministry, men's ministry, youth group, Jr. Soldiers, bible study, prayer meeting.
Worship And Fellowship Opportunities
The Salvation Army Marysville Corps actively seeks to fulfill its mission by reaching out to others in the name of Jesus Christ, and introducing every one to a loving relationship with God. We invite you to worship with us on Sundays at 7227 44th Avenue NE in Marysville. We also encourage you - and your family members - to participate in our weekday fellowship groups which will give you the opportunity to connect with other church members. For more information about specific programs or our weekly schedule, please contact The Salvation Army in Marysville at (360) 926-2228
Sunday Programs:
Family Worship - 11:00am
Monday Programs:
Women's Fellowship and Service - 10:00am
Tuesday Programs:
Community Breakfast - 9:30am - 11:00am
Club 3:16 Troops - 5:30pm
Single Parent Support Group - 5:30pm
Prayer Meeting - 7:00pm
Wednesday Programs:
Community Dinner - 5:00pm
Celebrate Recovery - 6:30pm
Thursday Programs:
Community Breakfast - 9:30am - 11:00am
Bible Study - 6:30pm
Saturday Programs:
Worship Service - 5:30pm
Men's Fellowship Breakfast - Last Saturday of the month, 8:30am
Beginning Soon:
Widows Group
---
Our Doctrines
The Salvation Army doctrines:
We believe that the Scriptures of the Old and New Testaments were given by inspiration of God, and that they only constitute the Divine rule of Christian faith and practice.
We believe that there is only one God, who is infinitely perfect, the Creator, Preserver, and Governor of all things, and who is the only proper object of religious worship.
We believe that there are three persons in the Godhead-the Father, the Son and the Holy Ghost, undivided in essence and co-equal in power and glory.
We believe that in the person of Jesus Christ the Divine and human natures are united, so that He is truly and properly God and truly and properly man.
We believe that our first parents were created in a state of innocency, but by their disobedience they lost their purity and happiness, and that in consequence of their fall all men have become sinners, totally depraved, and as such are justly exposed to the wrath of God.
We believe that the Lord Jesus Christ has by His suffering and death made an atonement for the whole world so that whosoever will may be saved.
We believe that repentance towards God, faith in our Lord Jesus Christ, and regeneration by the Holy Spirit, are necessary to salvation.
We believe that we are justified by grace through faith in our Lord Jesus Christ and that he that believeth hath the witness in himself.
We believe that continuance in a state of salvation depends upon continued obedient faith in Christ.
We believe that it is the privilege of all believers to be wholly sanctified, and that their whole spirit and soul and body may be preserved blameless unto the coming of our Lord Jesus Christ.
We believe in the immortality of the soul; in the resurrection of the body; in the general judgment at the end of the world; in the eternal happiness of the righteous; and in the endless punishment of the wicked.
---
Our Church Community
The Salvation Army of Marysville/Tulalip invites you to join our church family Saturday evenings at 5:30 PM. We are a group of authentic Christians giving loving support to each other on our walk of faith. We accept each member at their stage unique stage of their walk. We understand that Jesus loves you right where you are, but He will not leave you there. This is why we focus on salvation, sanctification (growing the saints) and equipping for service.